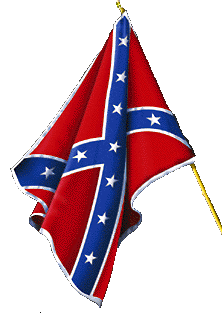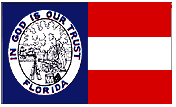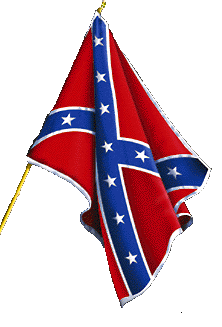 Pvt. William Riley Milton Camp 741
Sons of Confederate Veterans

Volume 10 Commander Terry Binkley Issue 9

Commander's Corner
Greetings Compatriots,
As we are all aware, devastation struck Dixie last month in the form of Hurricane Katrina. New Orleans will probably never be the same after being ravaged by the monster storm, followed by the feral humans that robbed, raped, and pillaged the prostrate city. The SCV has established a relief fund for the victims of the storm. Contributions may be sent to: SCV RELIEF FUND, P.O. BOX 59, COLUMBIA, TN 38402-0059. President Davis's home in Mississippi, Beauvoir, was severely damaged also, and there is a fund established specifically for the restoration of it. Contributions may be sent to: BEAUVOIR RELIEF FUND, P. O. Box 1786, Meridian, MS 39302.
On a brighter note, we were treated to a great presentation on the C.S.S Hunley, at our last meeting, by Cmdr. Keith "Skippy" Cornelious of Camp 1786 in Oxford, Fla. Cmdr. Cornelious has set a personal goal of getting copies of the DVD with the history of the Hunley and her crews, into every county library system in the state. Through a special arrangement with the producers of the documentary, Cmdr. Cornelious has made it possible to get the normally $30 DVD's for $15, and they are sent directly to the county library system with the sponsoring camp's name and contact information printed on them. I am proud to say that Camp 741 has signed on and purchased 2 copies to be donated to the Lake County library system!
Another highlight of the meeting was the swearing in of our newest camp member, Mr. Bob Blackmer. Bob has been attending meetings regularly for awhile now, and was originally intending to join as a Legionnaire, however, after a little research, Bob found one of his Confederate ancestors and joined as a regular compatriot. Joining me in swearing in Mr. Blackmer, was our own "Poachin' Parson", Rev. Dun Gordy. It was an unexpected, albeit pleasant, surprise to see Dun and his grandson, Jacob at the meeting. Dun is always on the go, preaching the Gospel of our dear Lord Jesus, so it was great to see them! Congratulations again Bob, and welcome to the camp!
We will have the meeting on Wednesday evening again in October, so mark your calendars now, the next meeting will be on WEDNESDAY, October 5th, 2005.
At the meeting, I brought up the fact that we did not yet have a speaker for the Lee-Jackson Banquet in January. I have since contacted newly-elected Army of Tennessee Commander Jack Bridwell, and asked him if he would be our keynote speaker. He has graciously accepted! As I told him, I was hoping against hope that he would be able to do it, (considering his busy schedule and the fact that everybody will be having Lee-Jackson functions about that time.) As luck would have it, he said that was the only weekend he had free in January, and he would mark it down for us.
As of this writing, I am informed that the renaming of Haynes Creek is official! This is a great local heritage victory and we have Legionnaire Bob Grenier to thank! Bob's tireless efforts in getting the proper spelling restored and also the preservation of Capt. Haynes house are why he was named "Outstanding Legionnaire" of the Florida Division SCV!
I look forward to seeing you all again in October.
Y.O.S.
Terry
If I ever disown, repudiate or apologise for the cause for which Lee fought and Jackson died, let the lightnings from Heaven rend me and the scorn of all good men and true women be my portion. Sun, moon and stars all fall on me when I cease to love the Confederacy. 'Tis the cause, not the fate of the cause, that is glorious"-- Major R. E. Wilson, C.S.A.

Chaplain's Chat
PAY ATTENTION!
She was standing by their bike while her husband went inside to pay for the gasoline. She was about to respond to my greeting when a couple of Harley's went roaring by. In mid-syllable, her head spun around and her attention was immediately diverted to them until they were well on down the Interstate.
You can pick a pilot out of any crowd. Just watch for the upturned head when a low flying aircraft passes within hearing distance.
Notice how many women grab their purse and men grab for their belt holster when a cell phone rings or beeps or buzzes in the busy restaurant.
I realized that my ear was searching for the source of a sound completely out of place in the crowded bookstall at O'Hare International Airport. The haunting hoot of an owl was barely audible and apparently unnoticed by my fellow browsers. But I heard it, that same sound I had heard deep in a Florida swamp while hunting deer the week before. My out-of-place owl was followed by the lingering laughter of a loon. Their cries came from the demonstration "Sounds of Nature" CD playing at the end cap of the "history" aisle. I wondered if I was the only country boy in that bookstore?
And I wonder, what does it take to get your attention?
Since I was raised right there are two tunes that will bring me to my feet. "Oh, say can you see…" and "Oh, I wish I were in the land of cotton…" The first three notes of "Dixie" or our other National Anthem will bring an immediate and automatic physical reaction whether I hear it consciously or subconsciously. If seated, I will be half standing before I realize it. If I'm standing, my shoulders go back, chin in, back strait, ears attentive – just the way the drill instructor pounded into us boot camp recruits when he barked "Attennn-hut". I think he dragged out that first syllable purposely longer in expectation that we would already be in the prescribed rigid posture by the time he finished with "hut".
Arrested attention prompts a response. So back to my question: "What does it take to get your attention?"
God speaks to His children in many different ways. Sometimes it is in the message of the pastor in the pulpit; or in the lesson of the Bible teacher; or the voice of some radio preacher as we scan the dial or surf the channels; or a friend in private conversation. Sometimes God speaks loud and clear and others hear it with us. But sometimes He whispers to us in that "still small voice" that is inaudible to anyone else. Jesus said in
John 10:27, "My sheep hear my voice, and I know them, and they follow me."
But sometimes it doesn't take a word. Psalm 32:8 meant "I will guide thee with mine eye." As a teenager, I could hear my mother clear her throat all the way across a crowded church. And when she got my eye, just the look on her face could speak volumes. And got the immediate response she expected!
Both of these verses say to me that I need to know my Lord as intimately as I know my own dear mother. And I need to recognize His voice just as easily as that of my own earthly father. And I will, as I read His Word and know Him better every day
Dun


Confederate Veteran
Propaganda Perverting History
By Howard Meriwether Lovett, Macon, Ga.
I do not know that the first school of journalism as established at Washington and Lee University included a study of propaganda, its use and abuse. If so, all teachings of that time, when the definition of the word "propagandism," as given in Webster, was "the art of propagating tenets or principles," has become obsolete, since the original purpose has been perverted to the instilling of the subtle lie. The slang word "dope" now covers the kind of corruption of history that is found in periodical publications, newspapers and books prepared by pseudo-educational authorities for the purpose of obscuring fact and for the myth-building around the figure of Lincoln and other unheroic men. This perverted propaganda pervades the daily press and magazines. A column in each daily paper of the Southern States could be well filled in pointing out the subtle lies that pass unchallenged and will continue to pass until the repetition will result in establishing lie for truth, until the whole matter of history becomes but a fabrication, added to or colored according to the imagination of unscrupulous writers.
Illustrations are easy to find. In the review of a biographical work by a Union war correspondent of the sixties (Villiers) may be found an anecdote of Sherman as a guest at a banquet years after the "march to the sea" growing grave and frowning when the band played "Marching Through Georgia" because according to this dope fiend, it recalled to his mind a vision of his worn and ragged troops hearing at last the peaceful murmur of the sea after that march. "Worn and ragged" (see "Official Records") after the "heroic" exploits of facing a defenseless population, laying the country in waste, and loading themselves with loot!
A silly magazine story tells of a "grandpap" who was one of Grant's men in that "gentlemen's fight," when private property was respected by an invading army, noncombatants protected, etc., in noble contrast to the recent conduct of Germans in Belgium and France. This is the subtle lie in the form of fiction, for blazoned on the pages of history is the clear and unimpeachable record that the only invading army of that four years' war to observe the laws of civilized warfare was led by Robert E. Lee. "Grandpap" was on the other side.
There is an American history now taught in a normal school for negroes in Georgia which is poisoned through and through by subtle lies about slavery, Lincoln, Sherman's march, and all matters concerning the South. This textbook bears the name of David Saville Muzzey as author. It may be one prepared especially for negro normal schools; I do not know. Looking over the references to Jefferson Davis, finding him classed as "proslavery radical" and lied about generally, one may judge that this propaganda was devised by a black-hearted Yankee for the purpose of corrupting the black teachers of the country and keeping them in ignorance of the great man, once loved and revered as master of Briarfield, where he taught his people (called slaves) lessons of Christianity and self-government. Did Lincoln ever kneel in church and worship God with negroes, all humble servants of Christ? How many of the abolitionist radicals received holy communion from the same altar as the black man? Let the negroes of today study the lives of the religious teachers of the ante-bellum time--- of Stephen Elliot, James O. Andrew, William Capers, and many others.
The propaganda of the subtle lie is not altogether the work of the unscrupulous Northerner trying to build his temple of fame upon shifting sands. The work is aided and abetted by the renegade pseudo-educator who is putting in schools the Lincoln myth by means of simple history stories, one to prove the humanity of Sherman's coadjutor by little fictions about saving a nest of birds or pulling a pig out of a mud-puddle! With church papers inserting at random "Lincoln's Creed" as compiled by fake historians, with subtle references to the time Lincoln literally "lived on his knees" (while directing the destruction of Southerner civilization from the White House), the tender minds of younger generations are being led to believe in a great and good Christian hero who never existed, and the real Lincoln, the unchurched vulgarian politician, will be dishonorably obliterated from history. It is one hopeful sign of this day that Americans demand in a hero, a Christian gentleman; to meet this demand the mythical Lincoln is built on the approved plan. Yet with all the craft and labor what a poor figure does the propagandist boast beside God's creation in Robert E. Lee! The great English-speaking world knows the difference and will yet give the lasting verdict. When Huxley, after a blasphemous tirade against religion, asked of Margot Tennant, what man of action had ever been inspired by religion, she hesitated before pronouncing at random, the name of "Gordon" (Chinese Gordon).
A man of action inspired by religion? From the tongue of how many thousands might have leaped the name of Lee! And after it Jackson, Stuart, Ashby, Davis, Bishops Polk and Ellison Capers, and an innumerable host, devout worshippers of God and men of action.
On Stone Mountain, rising from Georgia soil, will be carved by a great sculptor, a memorial to stand for all time, showing the highest type of manhood to have been the Christian heroes of the Southern Confederacy. No monument built with hands can vie with this one of living rock. From this day, let every intelligent reader mark and erase, wherever found, that propaganda that is bought and sold to obscure and pervert the history of our people.
(From May, 1921 CONFEDERATE VETERAN)


"Remembrance Book"
This month's veteran is T. K. Hall. Thomas Kennedy Hall was born near Columbia, S.C. in Fairfield County, Jan. 1, 1847. His mother moved to Randolph County, near Cuthbert, Ga., when he was a small boy. Here he grew to manhood and enlisted on April 16, 1864 in Company E, Third Regiment of the Georgia Volunteers, Gartrell's Brigade, Cobb's Division of the Confederate Army. This company served for some time on guard duty at Andersonville Prison in Georgia. The last battle with which Company E engaged was at Columbia, Ga., April 16, 1865, after the surrender at Appomattox, due to telegraph lines being destroyed during Union Gen. Sherman's march. Sergeant (and sometimes Orderly Sergeant) Hall was discharged honorably on May 1, 1865, having served his country without pay, as did most of the Confederate soldiers.
In 1868, after the "War Between the States," he came to Florida. Leesburg had only a name then and a boat came from Palatka once a month with mail. Mr. Hall located at Slyville, on Lake Griffin, east of Lady Lake (just a little north of "Thrill Hill") and later moved to Micanopy, where on Nov. 23, 1869, he married Miss Lula McCollum, of Micanopy. In a few years, he moved back to his homestead at Slyville or Swifton (which it was later named) on Lake Griffin. He built a log house in just 6 months. A few years later, he built a nice 9-room house, and had a flourishing orange grove. Mrs. Lula Hall died on Dec. 5, 1904, leaving three sons. On July 4, 1906, he married Fannie Jackson of Cuthbert, Ga. After residing at Slyville for several years, they moved to Leesburg. The house, built in Leesburg on High Street, was called "Three Oaks."
Mr. Hall, served for several years as the Adjutant of the Lake County Camp of the UCV and also served 2 terms as Brigade Commander of the Third Brigade, Florida Division, United Confederate Veterans, attaining the rank of General. Mrs. Fannie Hall was also a member of the Confederate Gray #641 of the Daughters of the Confederacy.
Gen. and Mrs. Hall were known as Uncle Tom and Aunt Fannie by many friends in Leesburg and their home "Three Oaks" was a gathering place for both Veterans and Daughters of the Confederacy. Mr. Hall is buried in Lone Oak Cemetery in Leesburg, Fl.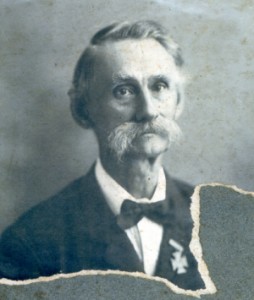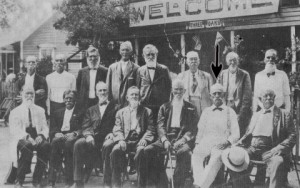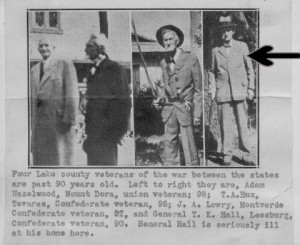 Our Camp
History/News/Notes
NEWS: DUES ARE DUE!
Life Membership in the SCV at the National level has 3 tiers.
Age 12 to age 64 is $500
Age 65 to age 79 is $250
Age 80 up is $125.
It can be paid $100 down and the rest as you want to send it in. BUT you must continue to pay your annual dues until the full amount is paid.
Life Membership at Division Level is $150 paid all at once and cannot be paid until the National membership is paid up.
Next Meeting: First WEDNESDAY, Oct. 5th, at the 5th Street Charhouse in Leesburg, FL.!
Located at 114 S. 5th St. between Magnolia and Main St. in downtown Leesburg. 6 P.M. Supper, 7 P.M. Call to Order. Everyone seems to like the new location! Plenty of parking at the bank across the street. Guests are always welcome!