Remembrance

Book

In Honor

of our Camp's

Confederate Ancestors
(Click on Camp Members' ancestor's name to go to information) (See our companion page Remembrance Book II of Lake County Veterans, link at bottom)
Harry D. Hurst: Enoch Wiley Hurst , Andrew Young Allen
Terry F. Binkley: Benjamin F. Binkley, William R. Surface, Jesse P. Shamblin, Henry C. Binkley
James E. Binkley Jr.: Benjamin F. Binkley, William R. Surface, Jesse P. Shamblin, Henry C. Binkley
James E. Binkley Sr.: Benjamin F. Binkley, Henry C. Binkley
Lewis Fussell(deceased): Benjamin Anderson Fussell
William T. Mills(deceased): Henry Lucius Mills
Paul Mott(deceased): Levi Berry Long
Stephen Robertson: Lt. Gen. John Bell Hood
Jack Williams:  John_N._Taylor, William D. Taylor
Col. Sterling Wood: General Sterling Alexander Martin Wood
Ancestor's Stories

2nd Lt. Andrew Young Allen Ancestor of Harry D. Hurst
Lt. Allen was born in Brunswick Co., Virginia in 1815. When he was a young man, he married Miss Rossanah Tyner, whose father was Capt. Jonathan Tyner, a veteran of the Seminole Indian Wars. It is not clear when or why Lt. Allen came to Florida, but he served as a 1st Lieutenant in a company of Florida militia during the Seminole Indian Wars. In just a few years the aging veteran would find himself in harm's way once again with the invasion of the South by Federal forces. On May 20th 1864, at Lake City, Florida, at the age of 49, Andrew enlisted in Co. "G" 1st Florida Reserves, commanded by Colonel J. J. Daniels and Lt. Col. William D. Barnes. The reserves were the last line of defense for the Confederate States and they fought valiantly to defend their homes and families. The 1st Florida was no different and they acquitted themselves well at such battles as The Battle of Natural Bridge on March 5th 1865. Lt. Allen survived the war and raised a large family of six children. A true Florida pioneer and Confederate patriot, he now rests in peace with his family close to him at Orange Hill Cemetery in Williston, Florida.
Capt. Benjamin F. Binkley Ancestor of Compatriots: Terry F. Binkley, James E. Binkley Sr., James E. Binkley Jr.
This article appeared in the July 1896 number of Confederate Veteran Magazine. Captain Binkley died in December 1903, and was buried near Confederate Circle and the graves of Gen. Thomas Benton Smith and Gen. B. F. Cheatham and approximately 1500 other Confederate Soldiers at Mt. Olivet Cemetery in Nashville, TN.
<![if !vml]>
<![endif]>Capt. Binkley was born in Davidson Co. TN, May 3, 1837. He enlisted July, 1861, in the "Hatchie Hunters," 22nd Tennessee Infantry, and on May 8, 1862, he was elected First Lieutenant. On June 17, 1862, the 12th and 22nd Tennessee Regiments consolidated, at which time he was promoted and placed in command of the "Hatchie Hunters" and "Harris Guards." The company engaged in the battles of Belmont, Corinth, Richmond and Perryville, in Kentucky; of Murfreesboro, Chickamauga, and Missionary Ridge, in Tennessee, and in nearly every engagement between the latter point and Atlanta, under Gen. Joe Johnston, and subsequently with General Hood at Jonesboro, GA., at Franklin, TN, and Bentonville, NC.
Capt. Binkley was paroled at Macon, GA, May 11, 1865, and returned to his home near Nashville where he at once engaged in commercial pursuits, in which he has been very successful. In Aug. 1873, he was elected Register for Davidson County, which position he held for eight years, and in 1883 he was elected City Tax Assessor for a term of two years. He has been engaged in the Abstract Title business since 1885, and is now General Manager of the Nashville Title Company.
Capt. Henry Clay Binkley Ancestor of Compatriots: Terry Binkley, James E. Binkley Sr., James E. Binkley Jr.
The following is from the April 16, 1934 edition of the "Nashville Banner" newspaper of Nashville, Tenn.
Funeral for Capt. Binkley To Be Tuesday
Forrest Cavalryman Had Enviable Career as Soldier and Citizen
Funeral services for Capt. Henry C. Binkley, 86, one of the last of Forrest's cavalrymen, who died at his home, 902 Chickamauga Ave., Sunday, will be held from the residence Tuesday at 10 a.m. Services will be conducted by the Rev. John F. Baggett, and the Rev. T. C. Ragsdale, with burial in the family cemetery near the Hermitage.
Capt. Binkley was born and reared near Nashville, and spent his life here. He retired five years ago as assistant manager of the Security Title Company, with which he had been connected since the company organized in 1894. Survivors are a son, J. H. Binkley, and two granddaughters, Misses Gladys Ree and Mary Evelyn Binkley. Active pallbearers will be Edwin L. and S. H. Haynes, Ben Binkley, Ben J. and H. Barnett Carver, and Allen Mason. Honorary pallbearers will be members of Company B, United Confederate Veterans, and Ernest Walton, J. M. Whitsett, General Harry Rene Lee, Henry Thornton, W. W. Porter, K. T. McConnico, Carson Bradford, P. D. Houston, Paul M. Davis, J. D. Torrey, C. B. Whitworth, Sanford Duncan, George I. Waddey, John Gaffney, Jr., J. B. Daniels, R. R. McClure, W. M. Lingner, Jordan Stokes, Walter Stokes, Thomas Malone, E. B. Rucker, W. E. Norvell, Jr., S.E. Linton, W. P. Cooper, H. H. Hughes, T.G. Chase, Judge J. D. B. DeBow, Congressman Joseph W. Byrns, Mayor Hilary E. Howse, Judge Litten Hickman, James G. Stahlman, L.A. Bauman, J. W. Wagner, and Noah W. Cooper.
Enlisting at the age of 15, when the War Between the States had turned its second year, Captain Binkley served in the brigade of Col. James W. Starnes in Forrest's division. The youth was with the remnants of Joe Johnston's army in North Carolina just before it was captured, and then was part of the escort for Jefferson Davis, President of the Confederacy, through North and South Carolina. At Washington, Ga., he was with the last of the gray troops to be captured and was paroled. Captain Binkley was one of the last of Forrest's troopers.
Captain Binkley was commander of Company B, United Confederate Veterans. He was always full of old war stories and at his desk nearly every day before his retirement, could be seen some old veteran sitting, talking over old times. He always had a happy greeting for all, a word of good cheer for every old soldier and comrade. Company B is composed of veterans of many different companies and brigades. It wears the old rebel uniform to all reunions and is in demand at many public functions. It has been through the individual efforts of Captain Binkley that this company has been able to attend the annual reunions in recent years. He took great pride in his company and in different ways provided for the transportation to and from the reunions.
One of Captain Binkley's best adventures happened when he was a boy, scarcely fifteen years old, and before he had joined the army. He was born and reared ten miles from Nashville on the Stewart's Ferry Pike, near the Hermitage. He was at home with his father, Joseph Binkley, in 1863. His brother, Benjamin F. Binkley, had joined the army, had become a captain, and had been in many fights.
In March, 1863, great distress prevailed in the Binkley home, for they had not heard from Ben in months. Joseph Binkley then asked his son, Henry (Captain Binkley) if he would not venture through the lines and find out about Ben, whether he was dead or alive.
On this trip Captain Binkley went through many hardships, walking most of the way. He was taken to Lebanon on a horse and from there walked to Tullahoma, where he had learned that the troops were stationed. When he reached Tullahoma he was informed that his brother had been ill and had been removed to a hospital in Rome, Ga. He then took a train to Chattanooga, and from there to Kingston, Ga., he made his way in a box car full of wounded soldiers. He walked from there to Rome. He later found his brother on the outskirts of Rome after many harrowing experiences in keeping out of the way of the Federal troops, who were in possession of the town at that time.
In 1924 Captain Binkley celebrated his golden wedding anniversary. He married Miss Ree J. McGee in Chicago on August 16, 1874. Mrs. Binkley died in 1928.
Captain Binkley was born in Davidson County November 25, 1847. He was a member of the 4th Tennessee Cavalry (Starnes) and surrendered with the latter's command. In 1861 he joined Capt. Carroll Martin's company, but on account of his age, 13, he was not allowed to leave. In June, 1863, he joined Capt. James Payne's company in Morgan's Cavalry in Wilson County. It disbanded and he was attached to Company B of the Second Kentucky battallion under Capt. J. B. Harris. In Company B of the Fourth Tennessee Cavalry, he was under Col. McClemore in Dibrell's brigade.
He took part in the Battle of Chickamauga, Rockyface Ridge, Resaca, and all of the engagements of General Wheeler's command from Dalton, Ga., to Atlanta, and from Stone Mountain to Columbia, S.C. He was never wounded. He was paroled at Washington, Ga., on May 10, 1865
Pvt. Benjamin Anderson Fussell
Benjamin Fussell, the ancestor of Compatriot Lewis Fussell, was born on March 4th 1833, in Irwin County, Georgia. Coincidentally, it was near Irwinville in 1865, where the great chieftain of the Confederacy, Jefferson Davis, was captured by the Federals.
At the beginning of 1857, Benjamin came to Sumter County, Florida and engaged in farming and raising cattle. It wasn't to last very long though. With the election in 1860 of the radical Republican, Lincoln, the fuse to war had been lit. In December of that year, South Carolina was the first to boldly declare her independence and start the secession movement. Next was Mississippi on January 9th, 1861, followed the next day by Florida. All over Dixie, young men began to fill the ranks of the newly formed Confederate States Army. 29 year-old Ben Fussell answered the call to arms, and enlisted in Capt. W.W. Slone's Company "F" of the 7th Florida Infantry Regiment on May 7th, 1862 in Orlando. Ben served for a year in this company and was then discharged by reason of furnishing a substitute. He must have had a family emergency or some other compelling reason for leaving the service, since he re-enlisted in Company "H" of the 1st Florida Reserves on May 5th 1864 in Sumterville. He served in this unit to the end of the war and was discharged May 12th 1865 in Madison, Florida by Capt. John N. Johnson
When the war ended, Ben came back to Sumter County and settled at Webster. He met and married Miss Elizabeth Sease in 1886. To this union was born six daughters and one son. The family owned and maintained 200 acres of land in Webster, along with 2 horses and 50 head of cattle up to 1909. The Lord called Ben home on May 20th 1910.
Benjamin Anderson Fussell was one of many of the Fussell family that served in the Confederate Army. The Fussell's are a long-time Florida family with a rich heritage of service to God, family, and country.
Lt. Gen. John Bell Hood 3rd Cousin of Stephen Robertson
<![if !vml]>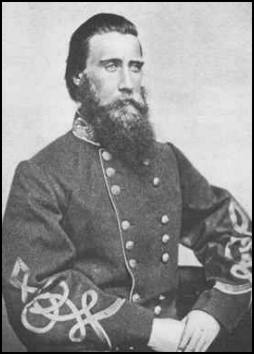 <![endif]>John Bell Hood was born June 29, 1831. He graduated from West Point in 1853 and served in the U. S. Army until he resigned to join the Confederacy in 1861. He was appointed to command the Texas troops and rapidly demonstrated great heroism in combat, winning quick promotions. Gravely wounded at Gettysburg and Chickamauga, Hood went on to command in Georgia. Hood retired in 1865 and died August 30, 1879, to be remembered as a great and patriotic son of the Confederacy.
Enoch Wiley Hurst G.G.Grandfather of Harry D. Hurst

Teamster 9th Florida, Company "E" Confederate States Army

Enoch was the 3rd child of nine born to William Broad Hurst and Sarah Wilder. He was born in Screven County, Georgia on June 10, 1810. According to his Confederate pension application in 1907, he came to Florida at the age of 5 years.

During the Seminole Wars in Florida, he and his father served with Capt. Redding's 1st Fla. Militia. On April 6, 1838, he was shot through the thigh and his horse was killed from under him at Thomas Mill Hammock in Taylor County, Fla. Enoch enlisted again in the militia on Sept. 23, 1839 under Capt. Wm. Newborn and once more on Aug. 10, 1840 under Capt. John Townsend.

During his militia service, Enoch was described as being 5 ft. 10 in. tall, having fair skin and blue eyes.

Enoch enlisted in the Confederate Army on August 7, 1863 under Capt. Asa A. Stewart at Lake City, Florida. His unit became the Florida 6th, Co. "E". Under this command, he served as a teamster, mostly in the area of Palatka, Olustee and Lake City. After the Battle of Olustee, in 1864, the 6th was sent to Virginia and was reorganized into the Florida 9th. During the fall months of 1864, Enoch was wounded and captured near a place called Ely's House. He was sent to a Washington area hospital until the war's end.

After the war, he returned to Suwannee County Florida and worked with his son Wiley Enoch Hurst in a saw mill. Enoch died on January 24, 1911 and is buried in the Friendship Baptist Church cemetery in the Pine Mount community, south of Live Oak, Florida.
Pvt. Levi Berry Long Ancestor of Compatriot Paul Mott
Levi Berry Long was born in Tennessee, on April 13, 1835. When the war came in 1861, Levi, who had since moved to Texas, joined the Confederate Army along with thousands of patriotic Southerners from all across Dixie to fight the Yankee invaders. Pvt. Long served with Co. B, 15th Texas Cavalry Volunteers. He survived the war, and later moved to the Indian Territory, now called the State of Oklahoma. Levi died on May 13, 1893 and is buried at Atoka, Oklahoma. His wife was a school teacher who made and smoked small clay pipes and occasionally a corn-cob pipe. She lived until 1928. Compatriot Mott has personal recollections of seeing her a couple of times when he was a small child.
Pvt. Henry Lucius Mills the Great Grandfather of Compatriot Bill Mills.
Henry Lucius Mills was from Troy, in Pike County, Alabama. His parents William and Elander had moved to Pike County from North Carolina. Henry grew to manhood likely never venturing very far from his home. He met Miss Martha Ann Lee as the storm of change was on the horizon. They were married in White County, Alabama on Feb. 14th, 1861. The storm arrived for Henry when he decided he must leave his new family and join the fight for his homeland.
He enlisted as a Private in Capt. James P. Nall's Company A of the 39th Alabama Infantry Regiment about the 13th of March, 1862. The 39th was newly formed at Opelika, Alabama with its members being drawn from Pike, Barbour, Henry, Walker and Russell counties. Pvt. Mills was immediately sent north with the regiment and assigned to General Gardner's Brigade to fight in the Kentucky Campaign where they saw little action. The regiment was later under the command of Generals Deas, G.D. Johnston, and Brantley. The 39th Regiment was prominent in the arduous campaigns of the Army of Tennessee from Murfreesboro to Atlanta, moved with General Hood into Tennessee, and fought its last battle at Bentonville. Henry's unit reported 95 casualties at Murfreesboro and lost thirty-one percent of the 310 engaged at Chickamauga. During December, 1863, the regiment totaled 337 men and 219 arms. By the time of surrender, April 26th, 1865, less than 90 officers and men remained.
Private Henry Lucius Mills returned home to his young bride to try to pick up where life had spun to a halt 3 years earlier. Times were hard after the war and by the early 1870's Henry was looking toward the growing territory of Florida where tales of warm weather, land and opportunities abound. Henry and Martha settled near Pinemount and Live Oak in Suwannee County, Florida in 1875 and lived there many years raising their family.
Former Private Henry Lucius Mills of Company A of the 39th Alabama Infantry Regiment passed his final muster on December 24, 1901 at his home near Pinemount in Suwannee County, Florida leaving behind his wife Martha and many descendants.
Jesse P. Shamblin Ancestor of Terry Binkley and Jim Binkley, Jr.
Jesse Shamblin was born in Grass Lick, Jackson County, Virginia (now West Virginia), in 1838. Jesse was described in his service record as having a dark complexion with dark hair and brown eyes and being about 5'9". He enlisted in "The Elk River Tigers", Company E of the 22nd Virginia Infantry on July 30th 1861 at Charleston, (W) Virginia. The 22nd was commanded by Col. George S. Patton, the grandfather of Gen. George S. Patton of World War Two fame. Jesse was wounded and taken prisoner at the Battle of Droop Mountain on November 6th 1863, but escaped and returned to his home at Osbornes Mills. While recuperating from his wounds, he found time to get married to Miss Olive Jane Reed. Jesse returned to his regiment to defend Virginia from the blue horde, but was captured again at Charleston on April 8th 1864. Arriving at the Federal hell-hole known as Camp Chase on May 10th, he spent the remainder of the war in prison. Being one of the lucky ones who survived incarceration in the notorious prison camp, Jesse returned to his wife and farm at Osbornes Mills in Jackson County. He had done all he could to secure independence for the South, but sadly, it was not to be. Jesse and Olive had ten children and lived out the rest of their lives in peace.
Pvt. William R. Surface Ancestor of Terry Binkley and Jim Binkley, Jr.
William R. Surface is the 3rd Great Uncle of Jim and Terry Binkley. William R. Surface enlisted in the Confederate Army on June 4th 1861 in Roanoke, Virginia. He joined the 42nd Virginia Infantry, Co. E "The Dixie Grays". He was hospitalized on August 31st 1861 for unknown reasons. On March 8th 1863, Pvt. Surface was detailed at Richmond Hospital in Richmond, Virginia, presumably as a nurse. He was then detailed as a nurse and guard at White Sulphur Springs, (W.) Virginia. On May 5, 1864, Pvt. Surface was wounded at the Battle of The Wilderness. He was "paroled" on June 21st 1865 at Charleston, W. Virginia. Among the many battles the 42nd Virginia Inf. took part in were Winchester, Port Republic, Spotsylvania Court House, Manassas, Antietam, Fredricksburg, Chancellorsville and Gettysburg. William's younger brothers, Charles and H. C. Surface (the Binkley's GGGrandfather), served in the 54th Virginia Infantry, Company K. Several of the Surface boy's cousins also served in the Army of Northern Virginia, including Sgt. James H. Surface, 24th Virginia Inf. Co. F, who was killed at Williamsburg, Va., coincidentally on May 5th 1862, exactly 2 years to the day before William was wounded at The Wilderness. Pvt. Jacob A. Surface, 36th Va. Inf. Co. F, was captured at Waynesboro, Va. and sent to prison at Fort Delaware. Pvt. Samuel D. Surface, 11th Va. Inf. Co. F, was severely wounded at 2nd Manassas. We are very fortunate to have this war-time photograph of one of our Confederate Heroes.
John N. Taylor  Ancestor of Jack Williams
<![if !vml]>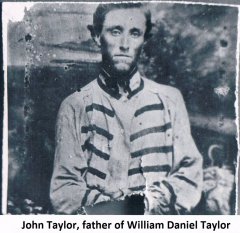 <![endif]>John N. Taylor, born in 1801, lived in Jefferson County, AL. and served in the Alabama Home Guard.  In the photo he is wearing what he called "his soldier suit". Concerning his wartime service he said, all he did was chase deserters and guard the salt peter plant.  His son, William D. Taylor, below, also served during the war. He passed away in 1870 in Jefferson County.
William D. Taylor  Ancestor of Jack Williams
<![if !vml]>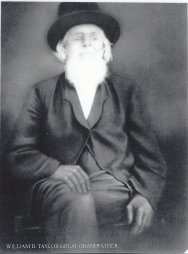 <![endif]>William D. Taylor, born in 1840, lived in Jefferson County, AL and served in Company C, 19th Alabama Infantry Regiment. He died in Sunset, TX in 1912 and is buried in Smyrna Cemetery.  Jack Williams has a book about the 19th Alabama titled "They Bore Every Burden" of which nearly half the contents is made up of letters home from the troops.
General S. A. M. Wood Ancestor of Col. Sterling Wood
Sterling Alexander Martin Wood was born March 17th, 1823 in Florence, Alabama. As a young man, Sterling was educated by Jesuits and graduated from St. Joseph's College in Bardstown, Kentucky in 1841. He then took up the study of law and began working as an attorney in Murfreesboro, Tennessee, eventually moving back to Florence, establishing a practice there. In 1851, he was appointed solicitor for the 4th Circuit Court of Alabama. Then, in 1857, he was elected to the State Legislature. Around 1860, Sterling became editor of the "Florence Gazette". Instead of enjoying middle age and an easier life-style at this time, Sterling, along with the rest of the South, was thrust into a life-or-death struggle by the onslaught of the invading Northern armies. Joining up with the Confederate Army, Sterling was elected Captain of Company K, the "Florence Guards" of the 7th Alabama Infantry. At a ceremony at the Masonic Hall in Florence on April 1st, 1861, Capt. S.A.M. Wood graciously received a flag for the company from Rev. Dr. Rivers who presented it on behalf of the ladies of Florence as a token of their appreciation to the brave men who dared defend their rights.
<![if !vml]>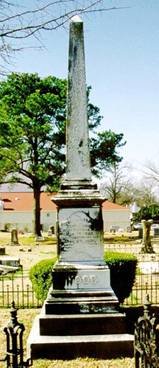 <![endif]>The flag eventually became the property of John B. Weakley, who donated it to the Alabama Dept. of Archives and History on October 7th, 1913.
The 7th Alabama Infantry was organized in May, 1861 at Pensacola, Fla. and consisted of eight infantry and two mounted companies. Sterling was promoted to Brigadier General on Jan. 7th, 1862. He served at Shiloh, was wounded at the Battle of Perryville and took part in the Battle of Stones River (Murfreesboro), and the Chickamauga Campaign. At Chattanooga on Oct. 17th, 1863, Gen. Wood resigned from the army for unknown reasons. He returned to Alabama and resumed the practice of law at Tuscaloosa. Soon after the war, he worked as an attorney for the Alabama Great Southern Railway. In 1882, Gen. Wood was again elected to the State Legislature and also taught law at the University of Alabama.
Gen. Wood passed away on Jan. 26th, 1891, at the age of 67. He was of the most noble type of Southern gentleman, learned in the words of law and in the clash of war, defending the rights of fellow Southerners.