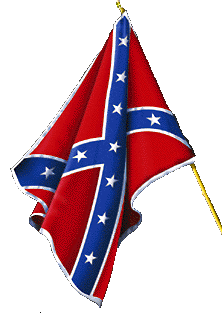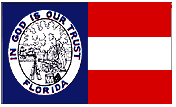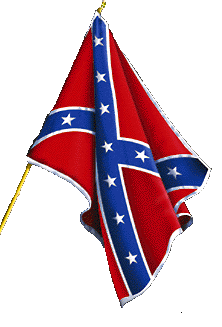 Pvt. William Riley Milton Camp 741
Sons of Confederate Veterans

Volume 11 Commander Terry Binkley Issue 2

Commander's Corner
Greetings Compatriots,
It is with a sad heart that I report the death of one of the Camp 741 family. Mrs. Peggy Blackmer, wife of Compatriot Bob Blackmer, passed away on Thursday, Feb. 23, 2006. Mrs. Blackmer was a sweet, Southern lady who was a pleasure to be around. Although, I hadn't known her all that long, she impressed me with her kind disposition and personality so typical of the classic "old-school" Southern women. We will sorely miss her. The camp will make a donation to Hospice of Lake and Sumter Counties in honor of Mrs. Blackmer. Our hearts and prayers go out to Bob in this most difficult of times.
Our February meeting was held at the Golden Corral due to the sudden closure of O'Brian's Restaurant. The manager of the Golden Corral, Mr. Doug Pavlik, has been very gracious and accommodating in reserving their meeting area for us. Unless other arrangements are made, we will be meeting at the Golden Corral for the foreseeable future. We will have to meet on Wednesday for March and April and then in May, we will be able to go back to Tuesday evenings. Since we had not held meetings at the Golden Corral for several months, they did not hold Tuesday's open for us, but in a recent conversation with Mr. Pavlik, he assured me that they would be glad to reserve the first Tuesday of each month for us once they have cleared their previous commitment to other guest's reservations. So, the next meeting will be on WEDNESDAY March 8th and the one after that will be WEDNESDAY April 5th , and then TUESDAY May 2nd. I will remind you along the way.
On Saturday, Feb. 25th, Camp 741 participated in the 104th Annual George Washington's Birthday Parade in Eustis. We were warmly received by the thousands of spectators who lined the parade route. As usual, they loved the firing of the muskets. (Except the ones who weren't looking when we fired!)
I want to thank the "usual suspects" that came out and supported the camp's efforts to keep Confederate Heritage in the public view. Among whom were, 8th Brgd. Cmdr. Harry Hurst and wife, Karen, 2nd Lt. Cmdr./Asst. Chaplain Jim Binkley Sr., Adj. Bill McClelland, Judge Adv. Bill Milton, Sgt. at Arms Eddie Hurst and wife, Sharon, and granddaughter, Savannah, Benevolence Officer Paul Mott and wife, Sandy, Col. Sterling Wood, Legionnaire Bob Grenier, and Camp 1709 Cmdr. Larry Rowe, who came all the way from Christmas, Fla. to help us out. Thanks also to 1st Lt. Cmdr. Jim Binkley Jr. who couldn't be there for the parade, but who helped get the trailer ready the night before. I sincerely thank you all...and your ancestors do too!
The Ocala camp will be dedicating a plaque to Confederate veterans on Saturday, March 4th at 11:00 a.m. at the Ocala Veterans Park. I have been asked to fill in for 8th Bgd. Cmdr. Harry Hurst to give the opening remarks, due to him being given another assignment from the Division. Camp 741 will also be performing color guard duties. All are invited to attend.
An officer call has been scheduled for Monday, March 13th. All camp members are invited and encouraged to attend. Contact a camp officer for details.
May God bless us all!
Y.O.S.
Terry
" If I ever disown, repudiate or apologise for the cause for which Lee fought and Jackson died, let the lightenings from Heaven rend me and the scorn of all good men and true women be my portion. Sun, moon and stars all fall on me when I cease to love the Confederacy. 'Tis the cause, not the fate of the cause, that is glorious"-- Major R. E. Wilson, C.S.A.

Chaplain's Chat
Any "Sunday-Go-To-Meeting" Clothes In Your Closet?
His snappy monochrome attire was an earth tone brown. His stylish suit, cream-colored dress shirt and a tan tie stood handsomely on a foundation of polished brown wingtips. When he presented his business card to the receptionist she apologized for asking him to wait. "There's one other in with her now."
The "other" was a pretty young lady in a stylish blue suit with a smart yellow blouse. Her hair was neat and well-groomed, make-up just right accentuated by tasteful accessories of necklace, earrings and bracelet. She wore hose and shoes with not-too-high heels.
Now when I was a boy we'd call those "Sunday-go-to-meeting-clothes". But I was not in church. I was in our Doctor's office and the two above-mentioned folks were sales representatives from pharmaceutical companies. They were there to present their companies' products in the most favorable light in hopes that she would prescribe their brands for her patients.
Theirs was serious business.
On the other hand, I've noticed that when I go to church the attire is less than "dress-up". It is called "casual" and it seems to me that it is getting more casual all the time. I see that some churches are even pushing this dress-down trend in their advertisements in an attempt to make their services more "consumer attractive" and "user friendly".
Somehow an erroneous concept seems to have become prevalent in our culture that to be "real" or "genuine" you must be casual in your attire as well as your manner. And this worldly attitude has even found root in our churches. It is an attitude that has not taken hold in the "real world" where there are still some things that are deadly serious. There remain some pursuits that demand serious attire along with a serious attitude.
I read this statement in my devotions this morning: "Those who aspire to walk with God cannot be casual or indifferent about their conduct and conversation."
My attendance at the worship services of my church is not a casual affair. It is serious business. I am coming, in the company of the Ambassadors of the King to do business with the Holy God, the Creator of the universe.
Does my attire affect my attitude or does my attitude affect the way I dress? I am not sure. But I am certain of one thing; there is a relationship. "Man looketh on the outward appearance, but the LORD looketh on the heart" the Scripture declares. The reason man looks on the outside is to try and see what God sees when He looks in the heart. And although we cannot see the heart, we do make some assumptions based on the packaging. We do still try to "judge a book by its cover".
When we see an outside appearance of casualness, we normally assume that there is a casual attitude in the heart.
I hope my assumption is incorrect.
I do not want to criticize anyone's dress code nor taste in attire. But I do want to sound a word of caution: Let us be careful that casual attire does not reflect a casual attitude when it comes to our worship of the King of Kings and Lord of Lords.
Dun


Confederate Veteran
The Inalienable Rights Of The People
The following letter appeared in the Morning Oregonian, of Portland Oregon, as an expression of the views of Rev. Paul S. Whitcomb:
"To the Editor: The recent action of the men of the G.A.R. in spurning the idea of a rapprochement with their foes of 1861 is, I think, more of a reflection upon them than upon the men of the South, who proved their manhood and their mettle in one of the most grueling contests of history, and who only succumbed to overwhelming numbers and resources.
"If the men of the South can forgive those who denied them, at the point of the bayonet and the cannon's mouth, those inherent and inalienable rights asserted in the Declaration of Independence, rights which Lincoln readily conceded to the barbaric black inhabitants of San Domingo and Haiti, and which today are conceded to many half-civilized peoples, and which are, in fact, those rights of self-government in defense of which the Allies allegedly fought the World War; if they can forgive not only that they were denied the rights of men, but that they were brutally and repeatedly struck and trampled upon when they were down, in one of the most appalling chapters of oppression in history, what is to be said of the spiritual caliber of men who need only forgive that their "foes" had the "impatient vanity" to claim for themselves the inherent and inalienable rights of men?
"If those rights are inalienable, then how could the generation which ratified the Constitution permanently alienate them? The term "inalienable" knocks the bottom out of all of Webster's and Lincoln's shallow pretensions.
"In view of the undeniable historical fact that the armies of Lincoln were not in any real sense volunteer armies, it would be interesting to know just how many of those who are now so bigoted, so implacable, so un-sportsmanlike, and so un-Christian, were drafted or induced to enlist by the offer of money. Such men eventually become the most bigoted and zealous supporters of a cause."
Contributed by Capt. A.S. Ashe, Raleigh, N.C.
The Declaration of Independence says that men are endowed with certain inalienable rights. To secure these rights, government is instituted deriving its just powers from the consent of the governed.
It is the right of the people to alter and abolish their government and institute a new government.
In conformity with these principles, New York, in her ratification of the proposed Constitution of the United States, declared that the people could reassume the powers of government, as follows:
"We, the delegates of the State of New York, duly elected and met in convention, having maturely considered the Constitution for the United States of America, agreed to on the seventeenth day of September, in the year one thousand seven hundred and eighty-seven, by the convention then assembled at Philadelphia, in the Commonwealth of Pennsylvania (a copy whereof precedes these presents); and having also seriously and deliberately considered the present situation of the United States, do declare and make known:
"That all power is originally vested in and consequently derived from the people, and that government is instituted by them for their common interest, protection and security.
"That the enjoyment of life, liberty, and the pursuit of happiness are essential rights which every government ought to respect and preserve.
"That the powers of government may be reassumed by the people whensoever it shall become necessary to their happiness; that every power, jurisdiction, and right, which is not by the Constitution clearly delegated to the Congress of the United States, or the departments of the government thereof, remains to the people of the several States, or their respective state governments to whom they may have granted the same; and that those clauses in the said Constitution which declare that Congress shall not have or exercise certain powers, do not imply that Congress is entitled to any power not given by the said Constitution; but such clauses are to be construed either as exceptions to certain specified powers, or as inserted merely for greater caution."
(From the January, 1930 CONFEDERATE VETERAN)

"Remembrance Book"
This month we will revisit Brigadier General Sterling A. M. Wood, the ancestor of compatriot Col. Sterling Wood.
Sterling Alexander Martin Wood was born March 17th, 1823 in Florence, Alabama. As a young man, Sterling was educated by Jesuits and graduated from St. Joseph's College in Bardstown, Kentucky in 1841. He then took up the study of law and began working as an attorney in Murfreesboro, Tennessee, eventually moving back to Florence, establishing a practice there. In 1851, he was appointed solicitor for the 4th Circuit Court of Alabama. Then, in 1857, he was elected to the State Legislature. Around 1860, Sterling became editor of the "Florence Gazette". Instead of enjoying middle age and an easier life-style at this time, Sterling, along with the rest of the South, was thrust into a life-or-death struggle by the onslaught of the invading Northern armies. Joining up with the Confederate Army, Sterling was elected Captain of Company K, the "Florence Guards" of the 7th Alabama Infantry. At a ceremony at the Masonic Hall in Florence on April 1st, 1861, Capt. S.A.M. Wood graciously received a flag for the
company from Rev. Dr. Rivers who presented it on behalf of the ladies of Florence as a token of their appreciation to the brave men who dared defend their rights.
The flag eventually became the property of John B. Weakley, who donated it to the Alabama Dept. of Archives and History on October 7th, 1913.
The 7th Alabama Infantry was organized in May, 1861 at Pensacola, Fla. and consisted of eight infantry and two mounted companies. Sterling was promoted to Brigadier General on Jan. 7th, 1862. He served at Shiloh, was wounded at the Battle of Perryville and took part in the Battle of Stones River (Murfreesboro), and the Chickamauga Campaign. At Chattanooga on Oct. 17th, 1863, Gen. Wood resigned from the army for unknown reasons. He returned to Alabama and resumed the practice of law at Tuscaloosa. Soon after the war, he worked as an attorney for the Alabama Great Southern Railway. In 1882, Gen. Wood was again elected to the State Legislature and also taught law at the University of Alabama.
Gen. Wood passed away on Jan. 26th, 1891, at the age of 67. He was of the most noble type of Southern gentleman, learned in the words of law and in the clash of war, defending the rights of fellow Southerners.

Our Camp
History/News/Notes
NEWS: Camp 741's March meeting will be held at the Golden Corral in Leesburg (our former meeting place) on March 8th, Wednesday, due to scheduling conflicts at the restaurant. We will discuss our meeting place at the next meeting.
We still need to get information from all of the members who have not had their ancestor(s) in the newsletter. Contact 1st Lt. Cmdr. Binkley and he can scrounge information if you have little. We sincerely want to honor all our Compatriot's ancestors and assist our Legionnaires in finding theirs. If you have more than one ancestor who served, we will gladly add them all to our place of honor, the Remembrance Book. Legionnaires (and members) should supply as much family and geographical information that you can. Include other lines of your family, such as maiden names of your female ancestors, cousins, etc. Any possible link can be pursued in earnest by our team of highly skilled genealogists (Terry and Jim). We'll hunt them down like western Virginia Sharpshooters plinkin' varmints.
Life Membership in the SCV at the National level had 3 tiers.
Age 12 to age 64 is $500
Age 65 to age 79 is $250
Age 80 up is $125.
It can be paid $100 down and the rest as you want to send it in. BUT you must continue to pay your annual dues until the full amount is paid.
Life Membership at Division Level is $150 paid all at once and cannot be paid until the National membership is paid up.