Remembrance Book II

In Honor of

Lake County, Florida's

Confederate Veterans
1st Sgt. James Harrison Bracey
Lt. Col. Benjamin Cunningham Yancey
Veteran's Stories
1st Sgt. James Harrison Bracey
James Harrison Bracey was born Dec. 12, 1843 in Sumter, S.C. He was the son of Washington and Massey Bracey. His ancestors can be found in Virginia as early as the 1600's with William Bressie. His Great Grandfather Randolph was the first in his line to change the spelling of their last name to Bracey.
James was raised on a farm with his brother Joseph and sisters Martha and Hannah. As a young man in antebellum South Carolina, James enjoyed fishing and hunting and all the simple pleasures that life in that idyllic time provided. But the pastoral splendor of the Old South was about to erupt into hellish flames of war, as the tyrant in Washington City scurried to deploy his army of invaders. At the age of 17, on January 14, 1862 near Columbia, S.C. James enlisted in (Nelson's Enfield Rifles) Company E, 7th Battalion South Carolina Infantry of the Confederate States Army and served first at the fall of Fort Sumter. His unit was active at Drewry's Bluff, Cold Harbor and in the long Petersburg siege, all Confederate victories against far superior numbers. On October 10, 1864, 1st Sgt. Bracey was transferred to Captain E. Scott Carson's Company G, Hampton's South Carolina Legion, CSA. Hampton's Legion was composed of several companies of cavalry, infantry, and artillery. One company of artillery was commanded by Captain (later Lt. General) Stephen Dill Lee, the author of the sacred, Charge to the Sons of Confederate Veterans. These units saw most of the worst fighting of the war, including 1st and 2nd Manassas, South Mountain, and the single bloodiest battle of them all, Sharpsburg or Antietam, as "those people" refer to it.
He was detailed to secure new mounts and on his return to the army became engaged in fights with Potter's Raiders (part of Sherman's advance) as they pillaged in Sumter, S.C. The ragtag group of defenders kept Sumter from being burned like other southern cities. James surrendered near his home in Sumter, S.C. at the time of Gen. Jos. E. Johnston's surrender at the close of the war. James noted in his pension application that he "was wounded several times but not severely and never left his command on account of said wounds."
On Oct. 10, 1865, James H. Bracey and Elizabeth M. DeLorme were married in Sumter, Sumter County, S.C. at the First Presbyterian Church of Sumter by Reverend Donald McQueen. After having nine children, the family moved to Florida on January 9, 1883 and settled in Umatilla. By 1909, according to his pension application, James had acquired 590 acres of land in and around Umatilla, FL.
After celebrating 65 years of marriage James Harrison Bracey died March 2, 1931 in Umatilla and was buried in Glendale Cemetery, Umatilla, FL.
If James could talk to us today, he would surely say that one of the high points of his life was his patriotic service to his country, the Confederate States of America.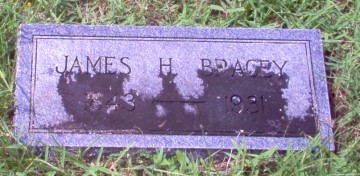 Thomas Kennedy Hall was born near Columbia, S.C. in Fairfield County, Jan. 1, 1847. His mother moved to Randolph County, near Cuthbert, Ga., when he was a small boy. Here he grew to manhood and enlisted on April 16, 1864 in Company E, Third Regiment of the Georgia Volunteers, Gartrell's Brigade, Cobb's Division of the Confederate Army. This company served for some time on guard duty at Andersonville Prison in Georgia. The last battle with which Company E engaged was at Columbia, Ga., April 16, 1865, after the surrender at Appomattox, due to telegraph lines being destroyed during Union Gen. Sherman's march. Sergeant (and sometimes Orderly Sergeant) Hall was discharged honorably on May 1, 1865, having served his country without pay, as did most of the Confederate soldiers.
In 1868, after the "War Between the States," he came to Florida. Leesburg had only a name then and a boat came from Palatka once a month with mail. Mr. Hall located at Slyville, on Lake Griffin, east of Lady Lake (just a little north of "Thrill Hill") and later moved to Micanopy, where on Nov. 23, 1869, he married Miss Lula McCollum, of Micanopy. In a few years, he moved back to his homestead at Slyville or Swifton (which it was later named) on Lake Griffin. He built a log house in just 6 months. A few years later, he built a nice 9-room house, and had a flourishing orange grove. Mrs. Lula Hall died on Dec. 5, 1904, leaving three sons. On July 4, 1906, he married Fannie Jackson of Cuthbert, Ga. After residing at Slyville for several years, they moved to Leesburg. The house, built in Leesburg on High Street, was called "Three Oaks."
Mr. Hall, served for several years as the Adjutant of the Lake County Camp of the UCV and also served 2 terms as Brigade Commander of the Third Brigade, Florida Division, United Confederate Veterans, attaining the rank of General. Mrs. Fannie Hall was also a member of the Confederate Gray #641 of the Daughters of the Confederacy.
Gen. and Mrs. Hall were known as Uncle Tom and Aunt Fannie by many friends in Leesburg and their home "Three Oaks" was a gathering place for both Veterans and Daughters of the Confederacy. Mr. Hall is buried in Lone Oak Cemetery in Leesburg, Fl.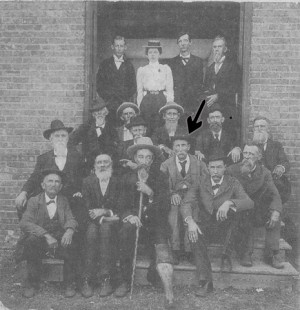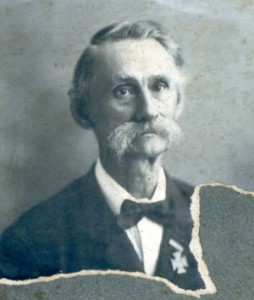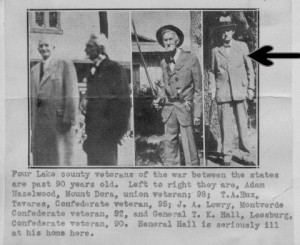 David McCredie was born on Oct. 20, 1839 in Wightonshire, Scotland. It is unknown when he arrived in America, but he was here by the time he was 21, for that was when he enlisted in the Confederate States Army. David enlisted on July 2, 1861 at Cedar Key, joining Capt. S.A. House's Company G of the 4th Florida Infantry, Finley's Brigade. By May 25, 1862, David had been promoted to corporal. The year would end on a bad note however, as Cpl. McCredie was seriously wounded by a shell fragment at the Battle of Murfreesboro, TN., on December 31, 1862. The fighting was so severe at this engagement, that forty-two per cent of the 468 men of the 4th Fla. Inf. were lost.
By the following fall, September 16, 1863, David was promoted to sergeant, just in time for the catastrophic Battle of Chickamauga. On the second day at "The River of Death", September 20, 1863, Sgt. McCredie was wounded once again, this time having the little finger of his left hand shot off. The casualty list was high at Chickamauga, with the 4th Fla. Inf. losing 40 per cent of its 217 men on the field in their contribution to the Confederate victory. The ranks of the 4th were further decimated at Missionary Ridge losing 89 per cent of the 172 men on the field. Sgt. McCredie was one of the lucky ones who survived the murderous Yankee assault on Georgia and Tennessee. His luck ran out on May 16, 1864. He was captured at Resaca, Ga. and taken north to the federal prison camp at Alton, Illinois. The next nine months would be spent in a Yankee prison, where his chances of survival were less there than if he were still on the battlefield. Freedom finally came on February 15, 1865, when Sgt. McCredie was "paroled". On March 8, 1865, he was exchanged and sent back to Dixie, where he immediately re-joined his old outfit and went back to the front, such as it was by that time. The war was, for all practical purposes, over by now and the 4th Florida Infantry surrendered a grand total of 23 men, including Sgt. David McCredie, on April 26, 1865 in Orange County, North Carolina.
With the war over and the South in ruins, the ex-Confederate's found their way back home. David McCredie came back, not quite in one piece, but ready to go on with his life. He married Miss Susan E. Dominey in 1867 in Alachua Co. Fl., and then moved to Umatilla in Lake Co. to start a farm and later an orange grove. Life took another unfortunate turn in 1896 when a massive freeze killed off the areas citrus trees. Fortunately, Florida had a pension system set up for her patriots of the War for Southern Independence, and Sgt. David McCredie got his much deserved and (much needed) allotment from the state.
Life's journey came to an end for Mr. McCredie on August 27, 1913 in Umatilla, Florida. He was buried in the Umatilla Cemetery.
We, the members of Pvt. W.R. Milton Camp 741 Sons of Confederate Veterans, salute the memory of Sgt. David McCredie. You are gone sir, but not forgotten!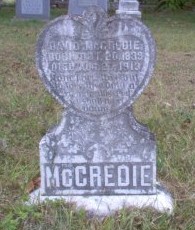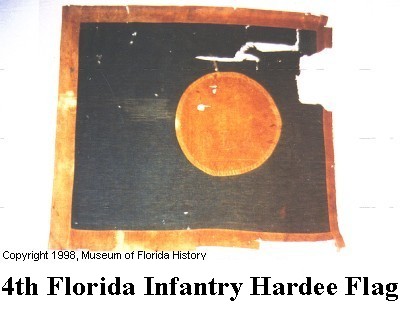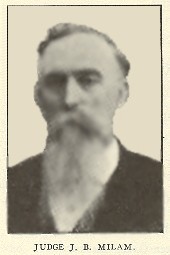 Judge James B. Milam was another Confederate Veteran of Lake County and ancestor of Compatriot Steve Milam from Capt. Jonathan C. Stewart, Camp 1825 in Apopka, Fla.
James B. Milam was born Feb. 5, 1838, in West Tennessee, near the line between Henry and Weakley Counties. His father died during his boyhood, and his mother was left with a family of seven sons and five daughters and in straitened circumstances. On arriving at manhood James Milam engaged in teaching school; but when the tocsin of war sounded in 1861, he and five of his brothers enlisted, on May 20, 1861, in the Confederate army, four of them serving in Capt. Thomas H. Conway's Company C, of the 5th Tennessee Infantry. One died at Chattanooga and one was killed on Missionary Ridge; another died in Paducah, Ky., since the war. One brother lived in Jacksonville, Fla., and the another was Treasurer of Union City, Tenn.
Judge Milam served as sergeant during the first year of the war, and was elected to 2nd Lieutenant on April 7, 1862. He fought at the first Battle of Shiloh and was seriously wounded in the hip and suffered a broken left arm at Perryville, Ky. There he was captured, remaining in prison until the summer of 1863. He later fought at the last Battle of Chickamauga. Meanwhile his company was consolidated with another, and he became a supernumerary officer. In conjunction with Capt. J. P. Cooper (of Paris, Tenn.) he secured permission from the Secretary of War to raise a company of cavalry; but unhappily he was again captured and sent to Fort Delaware, where he languished and suffered until he was released on June 17, 1865.
James Milam again entered the schoolroom and taught for several years, during which time he married Miss Mary E. Milam, of Henry County, a most estimable woman. Later he conducted Paris House at Paris, Tenn. The health of his only son induced him to move to Florida in 1881, and he located at Leesburg, where he again engaged in the hotel business, and was successful. His first wife having died in 1883, Judge Milam married again a few years later. Georgia A. Hamill became his second wife on Dec. 30, 1891 in Leesburg, Fla. He also served as town marshal and in other positions until 1899, when the Governor appointed him judge of Lake County, which position he held until stricken with paralysis in September, 1910. On the 20th of that month he was called to his reward. He was survived by his wife, one son and two daughters. Judge James Berry Milam was buried in Lone Oak Cemetery, Leesburg, Fla.
In all the walks of life; as son, husband, father, teacher, judge, and as neighbor, he proved himself worthy and stood in high repute wherever known. As Vice Commander of Lake County Cap, U. C. V., he showed his interest in the Confederate cause and his affection for those who had touched elbows in the days that tried men's souls.
Comments of his comrades recorded in his request for pension exhibit the esteem with which he was held during the war and just as surely by all who knew him afterwards. "…we gladly testify to the courage and unselfish patriotic devotion of our old comrade Jas. B. Milam, …Milam, was as brave, and good a soldier as the best, who followed the flag…", 4. Did he render service to the Confederate States during the war…? "He did Valiantly."
The Milam House can be found in Tavares, Fla. It was built in 1881 and was the home of Judge Milam and the first Lake County Courthouse. It is located on the north side of Alfred St., between Rockingham and New Hampshire Avenues.
(This article was compiled from information from the 1911 Confederate Veteran Magazine, Florida Confederate Veterans Pension Files and the Tavares Historical Trail.)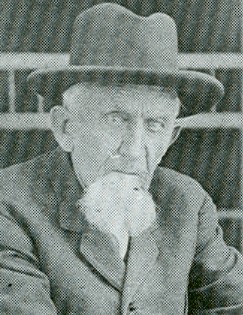 "A bushy white goatee was the mark of pioneer physician W. T. Shelton, who practiced in Altoona and Umatilla in the late eighteenth and early nineteenth centuries. Dr. Shelton delivered many babies of pioneer families." (A Pictorial History of Lake County)
Dr. William T. Shelton was a Confederate Veteran who made Lake County his home after the war. William Shelton was born Dec. 23, 1836 in Kentucky and lived life as many others of the time. When William was 25, the war was growing closer to home. The Confederate soldiers were looking for volunteers at the school that William's younger brother Francis Marion Shelton attended. Francis enlisted on the spot and sent word to William. William T. Shelton immediately enlisted as a Private on Sept. 2, 1862 in Co. B, 5th Kentucky Cavalry Regiment at Lexington, KY, under Col. D. Howard Smith.
Not much is known about his war service. Here is a Muster Roll entry: "Beech Grove, Tennessee, February 28, 1863. This company was mustered into service Sept. 2, 1862, and was attached to Gen Wharton's command during Gen. Bragg's retreat from Kentucky with his forty-mile wagon train. Skirmished with the enemy for five days through the mountains of Kentucky subsisting on parched corn during that time. Company has been stationed at various points in East Tennessee was engaged in the battle of Murfreesboro, had three men wounded, one died, have been picketing and scouting for six weeks at Beech Grove, have several men bare-footed, have served to the best of their ability for six months and never received one dollar of pay, but are cheerful and willing to fight and do their duty as Kentuckians." Records indicate Company B was a company of splendid soldiers.
After the war, W. T. Shelton became a physician and decided to head further south. He landed in Glendale, FL, a small town that is now a part of Umatilla. Here he met and married Elizabeth Mary Patricia Norton, a lifelong resident of Lake County. The Rev. Charles J. Clark, in Umatilla, FL., married them on Sept. 28, 1881. The family of Dr. and Mrs. Shelton was blessed with three daughters.
Dr. Shelton was one of the few physicians to practice during these early times in Lake County. As such, Dr. Shelton's name is found on many documents of the period, especially the many pension applications of his comrades. He was also a member of the Confederate Veterans Camp of Lake County. Dr. William T. Shelton died at the age of 76 on March 31, 1913. Dr. Shelton was able to leave his wife a home and a little land in Umatilla. Eventually, in 1925, the hard times required her to apply for Dr. Shelton's Confederate service pension. Her application was nearly denied due to Dr. Shelton's long life and prosperity. He had outlived most of his comrades in arms and by the time what little wealth they had was gone, there were no witnesses to vouch for Private William T. Shelton's service in the CSA. However, the pension for Mrs. Shelton was finally approved.
Lt. Col. Benjamin Cunningham Yancey
Benjamin Cunningham Yancey was born on July 30, 1836 in Greenville, South Carolina, the son of the great William Lowndes Yancey, U.S. Congressman and Confederate Senator from the State of Alabama, the first Confederate Commissioner sent to England and France by President Davis, author of the Ordinance of Secession for the State of Alabama, and fire-eating secessionist non pareil. His, is a story in itself.
Benjamin C. Yancey was raised in Montgomery, Alabama graduating from the University of Alabama in 1856 with a Bachelor of Arts degree. He later attended Cumberland University in Tennessee, receiving a degree in law. Upon completion of his bar exam, Benjamin was admitted to the bar in Montgomery where he practiced law until the clouds of war appeared on the horizon. When it became apparent that the Lincoln administration would no longer abide by the Constitution, and would, by force of arms, coerce the South to remain in an unholy alliance with the North, young Ben Yancey enlisted in Capt. Joe Bibbs company of artillery in Montgomery. He was quickly appointed 1st lieutenant and later captain. Ben served through most of the war as captain of artillery. He eventually became Lt. Colonel of the 17th Battalion of Alabama Sharpshooters. The 17th served with distinction at Murfreesboro, Chickamauga and Missionary Ridge, as well as the bloody campaigns in and around Atlanta. By December of 1863, the 17th Alabama was comprised of a mere 59 men, of whom a quarter had no weapons. Officially, as of August, 1864, the battalion ceased to exist. It had originally been formed with two companies by assignment from the 19th and 39th Regiments of Alabama Infantry, and it is assumed that the remnant of the 17th went back to their original regiments. As a testament to Lt. Col. Yancey's integrity, a witness on his application for pension stated that he "was regarded as one of the most reliable and gallant officers in our brigade."
After the war, Lt. Col. Yancey moved to Sao Paulo, Brazil. Still stinging from the bitter defeat of the Confederacy, many former Confederate soldiers emigrated to South America and Mexico. They were known as "Confederados" by the locals. Some stayed on and have descendants there to this day, while others, like Lt. Col. Yancey, eventually came back to live in their beloved Dixie-land. While still in Brazil, Lt. Col. Yancey met and married Miss Lucy Caines Hall. They were married on June 30th 1873 in Sao Paulo. On Oct. 29th 1881, the Yancey's moved to Umatilla, Florida. Here, they raised 5 sons and 1 daughter and went into the citrus business. After suffering for many years from malaria and "nervous prostration" brought on from exposure and hardships during the war, Lt. Col. Benjamin Cunningham Yancey, "fell asleep in Jesus" on March 17th 1909 and was "buried in Glendale Cemetery among the orange groves he had planted."
The members of Pvt. W.R. Milton Camp 741 Sons of Confederate Veterans salute the memory of Lt. Col. Benjamin C. Yancey. You are gone sir, but not forgotten.
(Editor's note: Quotes from Pension File # A1158 and obit from July 1909 CONFEDERATE VETERAN)